Welcome to the Robin Hood: Men In Tights Wiki
Robin Hood: Men in Tights is a 1993 American musical adventure comedy movie and a parody of the Robin Hood story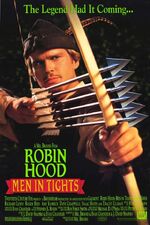 The movie was produced and directed by Mel Brooks, co-written by Brooks, Evan Chandler, and J. David Shapiro. It stars Cary Elwes, Richard Lewis, and Dave Chappelle in his film debut.
The script includes frequent comedic references to previous Robin Hood movies (particularly Prince of Thieves, upon which the plot is loosely structured, Disney's Robin Hood, and the 1938 Errol Flynn adaptation, The Adventures of Robin Hood).
Ad blocker interference detected!
Wikia is a free-to-use site that makes money from advertising. We have a modified experience for viewers using ad blockers

Wikia is not accessible if you've made further modifications. Remove the custom ad blocker rule(s) and the page will load as expected.